Monolithic insulation joint – MIJ
In Vasai, Thane, India, ADITYA STEEL ENGINEERING CO. is a reputable manufacturer, supplier, and exporter of High Pressure/Low Pressure Monolithic Insulating Joints (MIJ's) with experienced engineers for oil and gas applications.
With experienced engineers, ASEC is a manufacturer of High Pressure Monolithic Insulating Joints, or MIJ. High pressure monolithic insulating joints, also known as MIJs, are used for the primary pipeline segment in the oil, gas, and water applications to ensure electrical safety and the complete effectiveness of cathodic security systems. They serve as a solid, impenetrable barrier to the advancement of electric motion in all channelling frameworks.
MIJ – Monolithic Isolation Joints for High Pressure.
ASEC Produce and provides High Pressure Monolithic Isolation Joints are completely tested for hydrostatic, electrical, and weld performance and are enclosed to prevent erosion. Solid Isolating Joints don't require support because they work on the cathodic protection of gas, water, and oil pipelines. High Pressure Monolithic Isolation Joints provide electrical segment and uninvolved assurance against consumption. They are used in bay and outlet pipes, on metres, tanks, syphoning stations, and other places. supplying vital activity and support expense reserves.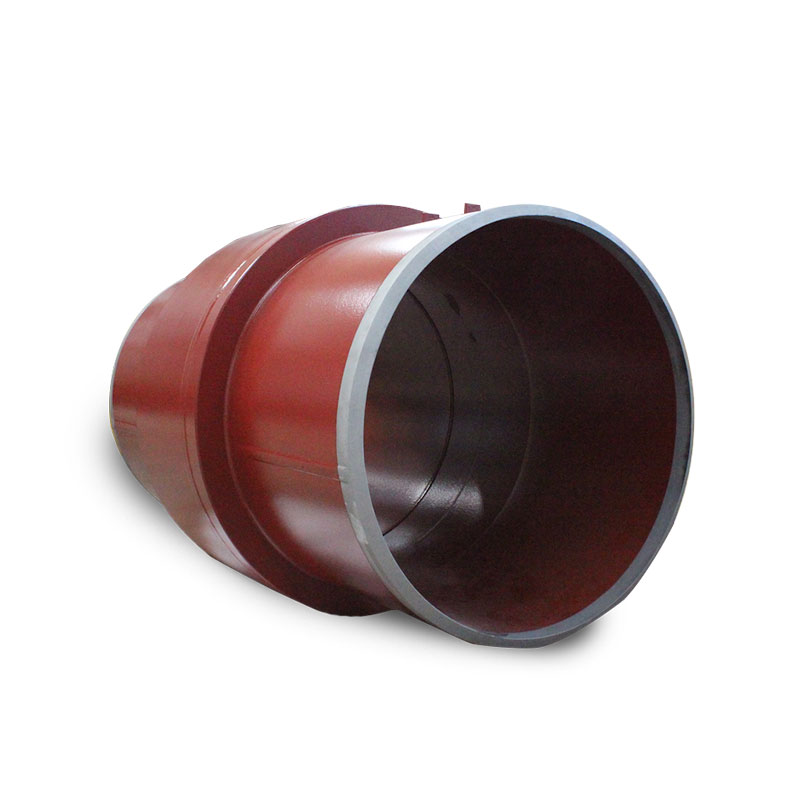 When designed and built properly, MIJs serve as an essential component of the actual pipeline and provide long-term uprightness in situations where cathodic security isolation is needed. Flanged associations are divided by gaskets, sleeves, and washers, and all components are visible to the unaided eye. MIJ disengaging parts are completely encased in the steel fashioning bodies at the centre of the plan, despite the fact that they perform the same function inside the framework.

Our production Design Codes: ASME B 31.3 – ASME B 31.4 – ASME B 31.8 – ASME VIII Div.I Appx. 2 – EN 10204 3.1.
Design pressure: (BarG) 6 to1034.5
Design temperature: (°C) Standard Application 0 to 90° – Special Application -173 to 180°C
Rating: (ASME/ANSI #) Class 150 to 2500 "ANSI/ASA" – 3000 to 15000 "API"
Ends: "BW" Butt Welded: – API 5L / B16.25 / B16.5 / MSS SP75
Connection Pipe: 15 to 3000mm / 1/2″ to 48″
Connection Pipe WT: 2.7 to 152.4mm / 0.154″ to 6″
Joint Overall Length: 150 to 12000 (over 3000 insulation joint + extension pipe)
Installation: Above ground / underground / subsea
Hydrostatic Test: 1.5 Times the Design Pressure ( Or as per Customer Requirements )
Dielectric Test: 1.5 to 5 KV @ 1 minute AC 50÷60 Hz (Special 20 KV @ 1 minute AC 50÷60 Hz)
Electric insulation Test: > 200 MΩ @ 1000 Volt DC ( Special > 100 GΩ @ 5000 Volt DC )
Carbon Steel Monolithic Isolation Joints grades.
ASTM A500/A500M
STM A53 / ASTM SA53
ASTM A795
ASTM A252
ASTM A795
ASTM A106
A53 GR.B
ASTM A333 GRADE6
ASTM A358 Class 1, 2, 3, 4, 5, ASTM A790
ASTM A928 Class 1, 2, 3, 4, 5, API5LC, ASTM B775
EN10217-7 TC 1/2
API 5L GR. X42, X46, X52, X56, X60, X65, X70, X80
High pressure monolithic insulating joints for water, gas, oil and petrochemical industry Insulating joints for high temperature fluids, sour service applications, conductive fluids and more
Isolation spools
Low pressure service joints
Pre-assembled insulating flanges
Insulating kit for flanges
Steel polyethylene transition fittings
BENEFITS & ADVANTAGES OF High pressure monolithic insulating joints.
No loss of integrity due to thermal expansion or ground stress as is common with flange isolation gasket kits.
In-factory tested hydrostatically and electrically, to 1.5 times their working pressure. Non destructive testing is also available.
Maintenance-free, reliable cathodic isolation of equipment in required isolation applications such as compressor stations.
No labor intensive, complicated installation procedure required as is the case with isolation gasket kits.
No inspection pits, vaults or maintenance needed – weld into place and direct bury – reliable, worry-free cathodic isolation.
Non-conductive epoxy coatings help prevent shorts, both internally and externally.
Isolation stray currents impressed on the pipe from exterior forces such as electrical transmission systems, earth currents and currents flowing from point to point.
Excellent bending and torsional resistance.
Earthquake resistant – acts as a thrust block or joint.
Testing
Hydrostatic Test
Pneumatic Test
Fatigue Test
NDE examinations
Electrical Test:

Insulation Resistance Test @ 1000 Volt DC
Di – Electric Strength Test up to 5000 Volt 50 Hz AC
Details required With Requirement
Size & Rating
Mating Pup Piece Details
Materials (Pup /Body/Insulating Material)
Design & Test Pressure
Design Temperature
Service
Location
Manufacturer of types of MIJ
| | |
| --- | --- |
| Manufacturer of Monolithic Isolation Joints in Vasai, Mumbai, India. | Manufacturer and exporters of flange isolation gasket kit in Europe |
| Manufacturer of monolithic insulating joints in Thane Mumbai, India. | Manufacturer and exporters of monolithic insulating joints in Japan |
| Manufacturer of High pressure monolithic insulating joints in Thane Mumbai, India. | Manufacturer and exporters of High pressure monolithic insulating joints in Korea |
| Suppliers of Monolithic Isolation Joints in Dubai, Middle East, UAE. | Manufacturer and exporters of cathodic isolation Dubai, Middle east, UAE |
| Manufacturer of pipe isolation gasket kits in Thane Mumbai, India. | Manufacturer and exporters of pipe isolation gasket kits in United states. |
| Manufacturer of Non-conductive epoxy coated monolithic insulating joints in Thane Mumbai, India. | Manufacturer and exporters of Non-conductive epoxy coated monolithic insulating joints in Middle east |
| Manufacturer of torsional resistance monolithic insulating joints in Thane Mumbai, India. | Manufacturer and exporters of torsional resistance monolithic insulating joints in Singapore |
| Manufacturer of Earthquake resistant insulating joints in Thane Mumbai, India. | Manufacturer and exporters of Earthquake resistant insulating joints in Italy |
| Manufacturer of Monolithic Isolation Joints in Chennai | Manufacturer and exporters of Isolation spools in Germany |
| Manufacturer of Low pressure service insulation joints in Thane Mumbai, India. | Manufacturer and exporters of Low pressure service insulation joints in Oman |
| Manufacturer of Pre-assembled insulating flanges in Thane Mumbai, India. | Manufacturer and exporters of Pre-assembled insulating flanges in Kuwit |
| Manufacturer of Monolithic Isolation Joints -MIJ in Saudi Arabia | Manufacturer and exporters of Insulating kit for flanges in Spain |
| Manufacturer of Steel Monolithic Isolation Joints in Thane Mumbai, India. | Manufacturer and exporters of Steel polyethylene transition fittings in South Korea |
Aditya Steel Engg. co. Supply and export to :
India, Saudi Arabia, Bangladesh, United States, UAE, Canada, Angola, Argentina, Austria, Azerbaijan, Pakistan, Peru, Chile, Spain, France, United Kingdom, Indonesia, Israel, Iran, Kuwait, Mexico,Malaysia, Nigeria, Serbia, Singapore, Taiwan, Chile , Venezuela, Ecuador, Netherlands, Brazil, Colombia, Ghana, Iran, Denmark, Poland, Australia, Afghanistan, Bahrain, Costa Rica, Egypt, Iraq, Jordan, South Korea, kazakhstan, Sri Lanka, Lithuania, Norway, Oman, Philippines, Poland, Qatar, Russia, Vietnam, South Africa, Nigeria Mexico, Turkey, Hungary, Algeria, Belarus, Belgium, Bhutan, Bolivia, Bulgaria,Croatia, Czech Republic, Estonia, Finland,Greece, Italy, Japan, Libya, Romania, Thailand, Trinidad, Tobago,Tunisia, Ukraine, Yemen, Hong Kong, Gabon, China, Portugal, Switzerland, New Zealand, Sweden, Slovakia, Kenya, Lebanon, Morocco, Mongolia