Internal pipe sleeve that is unique piping system to protect the pipeline greath weld from corroson from internaly.
Internal pipe sleeves / Metal pipe inserts, an innovative technology, are now being used more frequently to prevent corrosion at internal field welds. The internal pipe sleeves are designed to provide corrosion protection for the girth weld area as well as a completely internally coated pipeline. They are used for internally coated accessories and internally fitted, welded pipes, acting as a protective barrier during the welding process, ensuring the pipe's polymer coating's durability and preventing corrosion spots at the joints.
Internal Pipe Sleeve Benifits :
Flexibility : Thin-gauge assembly adjusts to pipe shape for easy insertion & consistent seal quality.
Sealing : Bore seals accommodate pipe ID tolerances and seal at any pipeline pressure.
Weld Quality : Flexibility allows for a better fit, easier root pass, and more consistent weld quality.
Heat Resistance : Wider sleeve & thicker insulation reduces heat impact & does not slow down welding.
Large Diameters : Accommodates out of round pipe
Automatic Welding : Compatible with internal lineup clamps & automatic welding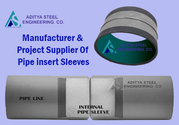 Our Internal pipe sleeves in productiob sizes ranging from 2′′ NB to 48′′ NB are available with Aditya Steel engg. co., and it can be internally and externally coated with any liquid coated or powder coating commonly used in the industry. Our product is a less expensive alternative to pricy field joints coating robots, hence making it an economical and flexible method of field construction.
Internal Pipe Sleeve advantages for online pipe lines.
Internal pipe sleeve applicable to a wide range of pipeline systems, both onshore and offshore.
Internal Pipe Sleeve can be made to fit the line pipe internal area.
The greath weld joint can be 100% X-Rayed completely.
Any liquid coating or powder coating can be coat to internal pipe sleeves
Internal pipe sleeve are made to fit the cut-back portion of the internal coated pipe.
Internal pipe sleeve have the advantage of being simple to manufacture and can be manufactured alongside the pipeline where they will be installed, saving a significant amount of time when compared to complex robotics technology, where the work can only begin after the welding process of the pipe is completed.
Internal Pipe Sleeve production Material Grade.
Aditay Steel Engineering Co. is a renowned producer, suppliers and exporters of internal pipe sleeves in the special Indian, European, Japanese, and Korean raw material pipes grades as API 5L LINE PIPES PSL 1 & PSL 2, SOUR SERVICE NACE MR0175, HIC-SSC Tested, and engineers for oil and gas field pipe line weld joints protection suppliers. API 5L X46, X52, X60, X65, X70, and X80 grade In Vasai, Thane, and Mumbai, India.
ASE Internal pipe sleeves must adhere to the following ASTM standards: ASTM A53, ASTM A106, ASTM A333, ASTM A36, ASTM A516 CL 60, CL 65, and CL 70; ASTM A671, ASTM A672 pipe internal insert sleeves; ASTM A691, ASTM A312 pipe internal insert sleeves; and ASTM A358 internal pipe insert sleeves.
OUR MAIN MANUFACTURER AND EXPORT COUNTRIES
ASIA – India,Thailand, Singapore, Sri lanka, Bangladesh, India, Indonesia, Viatnam, China, South Korea, Hong Kong, Japan.
Middle East – Kuwait, Dubai, Saudi Arabia, Qatar, Oman, Bahrain, Jordan, Iraq, Iran, Lebanon, United Arab Emirates, Algeria, Tunisia.
Europe – United Kingdom, Italy, Belgium, France, Croatia, Spain, Germany, Poland, Finland, Grees,
South America – Argentina, Chile, Brazil, Colombia, Paraguay, Colombia, Ecuador/Ikwayur/Ekuatur, Falkland Islands, Guyane, Guyana, Paraguay/Paraguái, Perú/Piruw/Piruw, South Georgia and the South Sandwich Islands, Suriname, Uruguay/Uruguai, Venezuela
Africa – South Africa, Eastern Africa, Northern Africa, Ethiopia, Egypt, DR Congo, Tanzania, South Africa, Kenya, Uganda, Algeria, Sudan, Morocco, Angola, Mozambique, Ghana