With the good experiacne in the sector oil and gas, we Aditya Steel engineering co. is compeletly supply from stock of ASTM A213 T5, T9, T11, T22, T91 boiler tubes in Mumbai, India.
Reputable Indian SA213 Tube Manufacturers, stockist and exporters. Due to the reasonable man hours in India and good sources of high quality ASTM A213 Seamless Tubes at best price accessible in Mumbai, India, we are able to offer SA213 Seamless Tube, ASTM A213 Alloy Steel Seamless Tube, Alloy Steel ASTM A213 Tubing & ASTM A213 Tubes at lower prices. Indonesia, Sri Lanka, Sweden, Italy, Russia, Canada, Qatar, Kuwait, Bahrain, Israel, UK, Malaysia, Oman, Thailand, Germany, UAE, Egypt, France, Singapore, Iran, Turkey, USA, Australia, and Saudi Arabia are among the countries that receive ASTM A213 material from Aditya Steel. The sizes and thicknesses of alloy steel ASTM A213 tubing that are typically provided to this standard are 0.015 to 0.500 in. [0.4 to 12.7 mm] in minimum and 1/8 in. [3.2 mm] in inside diameter to 5 in. [127 mm] in outside diameter, inclusive.
ASTM A213 T5, T9, T11, T22, T91 boiler tubes.
Boiler and superheater tubes, continuous ferritic and austenitic steel tubes, and austenitic steel heat-exchanger tubes are all covered by the SA 213 Tubes Specification. Tempered steel tubes meeting ASTM A213 are designed for use in high-temperature applications like superheaters and reheaters. The tubing sizes and thicknesses that are typically provided in accordance with this standard are 1/8 in., or 3.2 mm, and 5 in., or 127 mm, in inside diameter, with a minimum wall thickness and an outside diameter that ranges from 0.015 to 0.500 in. Aditya Steel will supply tubing with different dimensions if necessary to meet this specification's criteria.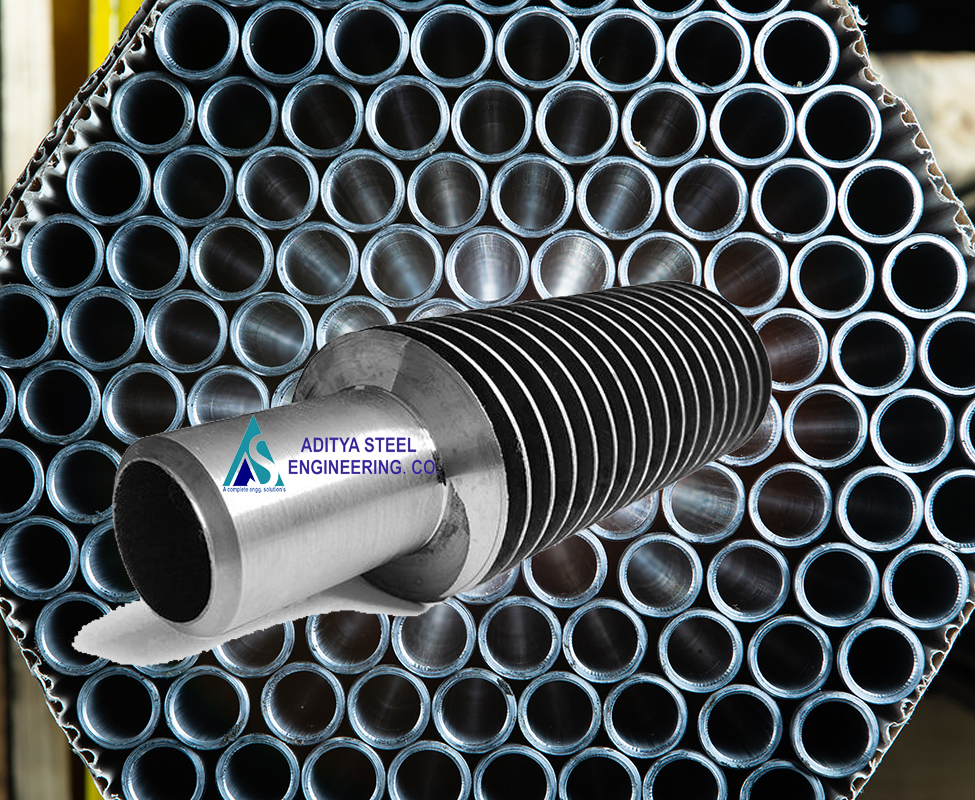 Aditya Steel engineering is an ISO CERTIFIED and Manufacturer and exporters of seamless/welded boiler tube, Stockist and suppliers of superheater tubes, deler and suppliers of high tempreture tube, stockist of astm a213 t5 tubes, supplier of astm a213 t9 tube, exporters of astm a213 t11 tubes, distributors of astm a213 t22 pipes, stockholders of astm a213 t90 tubes, manufacturer of astm a213 t91 tubes in Mumbai, India, Dubai, Middle east, uae, Europe, Jpan, Korea, germany, Singapore Etc.
Tubing with an inside diameter of less than 0.015 in. (0.4 mm) and a thickness of less than 1/8 in. (3.2 mm) is exempt from the mechanical property standards for ASME SA213 chrome moly tube. Additional criteria are offered as options, and if they are necessary, they are noted in the order.
It is recommended to treat the values given in either inch-pound units or SI units individually as standards. Be aware that the specification may not be met if numbers from the two systems are combined. Unless the "M" designation of this specification is specified in the order, inch-pound units will be used.
| Trade Name | Grade | UNS # | Heater Tubes |
| --- | --- | --- | --- |
| 1 1/4 Chrome | T11 | K11597 | A213 |
| 2 1/4 Chrome | T22 | K21590 | A213 |
| 5 Chrome | T5 | K41545 | A213 |
| 9 Chrome | T9 | K90941 | A213 |
| T91 | T91 | K90901 | A213 |
| T92 | T92 | K92460 | A213 |
ASTM A213 Boiler Tube Specification
Additional Testing
NACE MR 0175, NACE TM0177, NACE TM0284, HIC TEST, SSC TEST, H2 SERVICE, IBR, etc.
Standard
ASTM A213, SA213 (with IBR Test Certificate)
Specifications
ASTM A213 & ASTM A209 (T1 , Ta, T1b)
BS/3059/90/PartII/620 & 622
DIN/17175/13CrMo44
DIN/17175/10CrMo910
DIN/17175/15Mo3
Tolerance
Cold drawn pipe: +/-0.1mmCold rolled pipe: +/-0.05mm
Length
Standard
Double &
In Cut length also.
Sch. & Swg.
10 Swg., 12 Swg., 14 Swg., 16 Swg., 18 Swg., 20 Swg., 3.6 mm Thk
Type
Seamless / ERW / Welded / Fabricated
Origin
European, Japanese, Korean, US, Russian, Indian (Strictly No Chinese Material)
Size
6.35 mm OD to 101.6 mm OD
Thickness
3-12mm
Craft
Cold rolled and Cold drawn
available in Form of
Round, Square, Rectangular, Hydraulic Etc.
End
Plain End, Beveled End, Treaded
Specialized in
ASME SA213 Boiler Tube, SA213 Heater Tube, SA213 Heat Exchanger Tube
Tolerance
Cold drawn pipe: +/-0.1mmCold rolled pipe: +/-0.05mm
Application
Seamless Ferritic Alloy Steel Tube for High-Temperature Service
ASTM A213/ ASME SA213 Alloy Steel Tube uses
ASTM A213/ ASME SA213 T11 for power generation, petroleum, and other high temperature services
ASTM A213/ ASME SA213 T22 for power generation, petroleum, and other high temperature services
ASTM A213/ ASME SA213 T5 for petroleum
ASTM A213/ ASME SA213 T9 for petroleum
ASTM A213/ ASME SA213 T91 for power generation
ASTM A213/ ASME SA213 T92 for power generation
SA209 T1 for boiler replacement and repair
ASTM A213/ ASME SA213 SA213 T11 tube for Manufacturing Boilers
ASTM A213/ ASME SA213 SA213 T11 tube for Superheaters
ASTM A213/ ASME SA213 SA213 T11 tube for Heat Exchangers
ASTM A213/ ASME SA213 Alloy Steel Boiler and Heat Exchanger Tubes
ASTM
ASME
JIS G 3462
BS
DIN
ISO
ABS
NK
LRS
DNV
A209 T1
SA209 T1
STBA 12
3606 243
17175
15Mo3
2604 II TS26
ABS K
KSTB 12
Sec
4-E-TS380
A250 T1
SA250 T1
3606 245
17177
15Mo3
2604 III TS26
A209 T1a
SA209 T1a
STBA 13
ABS L
A250 T1a
SA250 T1a
A213 T2
SA213 T2
STBA 20
17175
14MoV83
2604 II TS33
Sec
4-E-TS440
A250 T2
SA250 T2
A213 T12
SA213 T12
STBA 22
3606 620
17175
13CrMo44
2604 II TS32
ABS O
KSTB 22
Sec 6
1Cr 1/2Mo-440
Sec
4-E-TS410-3
A250 T12
SA250 T12
2604 III TS32
A213 T11
SA199 T11
STBA 23
3606 621
ABS N
KSTB 23
Sec
4-E-TS410-4
SA213 T11
A213 T22
SA199 T22
STBA 24
3606 622
17175
10CrMo910
2604 II TS34
ABS P
KSTB 24
Sec 6
2-1/2Cr 1Mo-410
Sec
4-E-TS450-2
SA213 T22
A213 T5
SA199 T5
STBA 25
3606 625
2604 II S37
Sec
4-E-TS430
SA213 T5
A213 T9
SA199 T9
STBA 26
3059-P2 622-490
2604 II S38
Sec
4-E-TS500
SA213 T9
A209 T1b
SA209 T1b
3059-P2 243
17175
17Mn4
2604 II S39
ABS M
Sec 6
2-1/2Cr 1Mo-490
Sec
4-E-TS450-1
3059-P2 620-460
(=A209-
T1b)
A250 T1b
SA250 T1b
3059-P2 629-470
17175
14MoV63
2604 II S40
Sec
4-E-TS460-2
A250 T11
SA250 T11
3059-P2 629-590
17175
X20CrMoV12 1
Sec
4-E-TS590
A250 T22
SA250 T22
3059-P2 762
Sec
4-E-TS610
A213 T5b
SA213 T5b
3059-P2 304S51
Sec
4-E-TS690
A213 T5c
SA213 T5c
3059-P2 306S51
A213 T17
SA213 T17
3059-P2 316S52
A213 T21
SA213 T21
3059-P2 316S51
A213 T23
SA213 T23
3059-P2 321S51
A213 T91
SA213 T91
3059-P2 347S51
A213 T92
SA213 T92
3059-P2 215S15
Diffrent Types of SA213 Tube
| | |
| --- | --- |
| AISI SA213 Alloy ERW Tube Stockist | ASTM A213 T22 Tubes supplier |
| SA213 T5 Alloy Steel Tubes Suppliers | ASTM A213 T2 Alloy Steel A335 Tube supplier |
| ASTM A213 t11 Tubes Stockist | ASTM A213 T91 Alloy Steel Seamless Tube supplier |
| SA213 T22 Alloy Steel Seamless Tubes Stockist | Alloy Steel Gr SA213 T22 Heater Tube supplier |
| SA213 T9 Alloy Steel Custom Tubes Stockist | ASME SA / ASTM A213 T5 Tubes Manufacturer |
| ASME SA213 T90 Alloy Steel Seamless Tube Stockist | IBR SA213 T11 Alloy Steel Tubes Manufacturer |
| Alloy A213 T11 Seamless Square Tube Stockist | ASME SA213 T9 Alloy Steel Seamless Tube Manufacturer |
POPULAR LOCATIONS WHERE WE SUPPLY BOILER TUBES
Countries
Brazil, Tibet, Ukraine, Nigeria, Estonia, United Kingdom, Colombia, Belarus, Tunisia, Poland, France, Poland, Argentina, India, Gabon, Israel, Lebanon, Nepal, Azerbaijan, Thailand, Russia, Puerto Rico, Ecuador, Gambia, Ireland, Iran, Costa Rica, Macau, Hong Kong, Serbia, Algeria, Japan, Iraq, Denmark, Finland, Croatia, Libya, Kuwait, Slovakia, Turkey, Singapore, New Zealand, Australia, Italy, Bhutan, Indonesia, South Korea, Oman, China, Angola, Trinidad & Tobago, Canada, Venezuela, Sweden, Malaysia, Egypt, Belgium, Bahrain, Qatar, Yemen, Peru, Taiwan, Mongolia, Chile, Bulgaria, Spain, Hungary, Greece, Philippines, Lithuania, Saudi Arabia, Kazakhstan, Iran, Romania, Bolivia, Kenya, Mexico, South Africa, Morocco, Jordan, Vietnam, Zimbabwe, Norway, Czech Republic, United Arab Emirates, Nigeria, Bangladesh, Pakistan, Portugal, Ghana, Sri Lanka, Afghanistan, United States, Chile, Namibia, Netherlands, Mexico, Austria, Germany, Switzerland.
Cities
Brisbane, Geoje-si, Jakarta, Caracas, Ho Chi Minh City, Bhopal, Al Khobar, Nashik, Ernakulam, Jaipur, Jamshedpur, Ahmedabad, Sydney, Thiruvananthapuram, Gimhae-si, Ludhiana, Bogota, Busan, Karachi, Santiago, Nagpur, Haryana, Singapore, Houston, Los Angeles, Kolkata, Pune, Toronto, Cairo, Baroda, Noida, Aberdeen, Milan, Ankara, Dallas, Tehran, Doha, Pimpri-Chinchwad, Courbevoie, New Delhi, Rajkot, Moscow, Gurgaon, Manama, Secunderabad, Kanpur, Istanbul, Madrid, Edmonton, Kuala Lumpur, Ulsan, Riyadh, Colombo, Howrah, Dammam, Ranchi, Hanoi, Chiyoda, Lahore, Kuwait City, Thane, Indore, La Victoria, Chandigarh, New York, Vadodara, Atyrau, Petaling Jaya, Surat, Port-of-Spain, Seoul, Chennai, Montreal, Hong Kong, Ahvaz, Dubai, Bengaluru, Bangkok, Abu Dhabi, Jeddah, Vung Tau, Navi Mumbai, Lagos, Calgary, Algiers, Granada, Al Jubail, Perth, Rio de Janeiro, Melbourne, Sharjah, Mumbai, London, Visakhapatnam, Muscat, Faridabad, Hyderabad, Coimbatore, Mexico City.