Aditya Steel Engg. Co. is only one trusted manufacturer of pipe Insert Sleeve (Pipe Sleeving) AdiSleeve in India.
AdiSleeve protect to the international coating while welding the pipe connection, the AdiSleeve pipe insert sleeve system is used. It provides a cost-effective and adaptable method for field construction while doing away with pricey custom manufacture.
Pipe Insert Sleeving System – AdiSleeve.
AdSleeve is a top-notch Manufacturers of pipe sleeves for pipe connections in India, offering sleeves for connections in industrial applications involving water, oil, and gas that prevent corrosion. We provide premium goods in the best manner for the pipe sleeves, referred to as AdiSleeve. We place the utmost importance on usability, flawless quality, and superior design. We create and produce our goods in Korea for ourselves in order to uphold these principles. In addition to the foregoing, to satisfy client demands
AdiSleeve is a pipe welding connection solution for internally coated pipe and piping systems. To maintain the interior coating during the welding process, the adisleeve piping connection system is used. The AdiSleeve system provides a cost-effective and customizable means of field pipeline building while avoiding the need for costly system manufacture.
AdiSleeve Advantages:
Applicable to onshore/offshore pipelines as well as plant/municipal piping systems worldwide.
• Accommodates all pipe sizes and grades.
• Compatible with Pipe Sleeve liquid or powder coatings
• Field-applied, heat-cured mastic forms a smooth surface at sleeve edge which provides a continuous barrier.
• Full penetration, 100% x-rayable welds to API 1104 and ASME 31. Chap. 9.
• Utilized with pipe field cuts to achieve exact length requirements.
• Fast assembly easy fabrication.

AdiSleeve Pipe Sleeve manufacturer, Insert Sleeve manufacture, Internal Sleeve manufacture, Insert Sleeve/ Pipe Sleeve manufacture, Pipe Sleeve for Internally Coated Pipelines manufacture, Supplier of Pipe Insert Sleeve manufacture, Full Encirclement Sleeve manufacture, Internal Pipe Sleeve manufacture, pipe guide sleeve manufacture, Insert Pipe Sleeve manufacture, pipe internal fitting sleeve manufacture, pipe fit sleeve manufacture, pipe protection sleeve manufacture
AdiSleeve Specification.
| | |
| --- | --- |
| Size | 4 Inch to 48 Inch |
| Usage/Application | Water pipe line, internal coated pipe line etc. |
| Type | AdiSleeve to the protect the pipline gresth weld from corrosion |
| Finishing | FBE Coated, Powder coated, Food Grade Coating |
| Material | Carbon Steel, Alloy Steel Stainless stee; |
| Minimum Order Quantity | As per customer requirement |
AdiSleeve Features:
• Sleeves are internally coated 100% Holiday-free, add. externally coated if required
• A two layer heat shield consisting of a high heat resistant ceramic wrap and a wide steel backing ring prevents coating damage on I.D. of the insert sleeve during welding.
• O-rings wipe field-applied mastic to sleeve ends.
• Sleeve tabs establish the recommended distance between pipe ends and blend into the weld bead. Tabs ensure longitudinal stability of inst. sleeve.
• International certified technician available for contractor training and quality control of installation.
AdiSleeve Design.
The Pipe Sleeve consists basically of a cylindrical case made of carbon steel fitted with grooves and upsets for installation of o-rings, heat wrap and Backing ring.
The plain internal surface as well as the nose up to the o-ring groove is coated withhigh performance coating material.
Around the external center section rectangular tabs (spacer) are welded to the backingring.
When the sleeve is positioned in the pipe these spacers are placed against the pipe end. The tabs define the proper longitudinal position of the sleeve and will be welded into the root pass while welding the pipe together.
Finally the tabs ensure a fixed position of the sleeve in the pipe string. Even serious longitudinal force cannot move the sleeve from position.
The number of tabs variants with the diameter of sleeves, f. examp. a 4″ sleeve is fitted with three, a 30″ sleeve is fitted with ten tabs
To prevent an recessive heat transfer during pipe welding a two layer heat shield is installed which protects the internal coating from burnout.
The first layer is formed by a wide metal made backing ring which prevents an easy heat transfer to the sleeve body as well as to the external coated sleeve area.
It protects also the second layer from being touched and damaged by an electrode during welding.
The second layer forms tape of high insulating heat wrap which is able to withstand temperatures up to 1000 °C.
This heat protecting system proves itself as perfect for field installation and provides high quality results not depending on welders grade of ability and qualification.
Two or four o-rings are placed on sleeve ends to perform as an additional barrier
and as support elements during sleeve installation.
These o-rings are made of high performance 'Viton' material. This shows high UVresistance too which keeps the material quality during storage and handling especially in desert climate.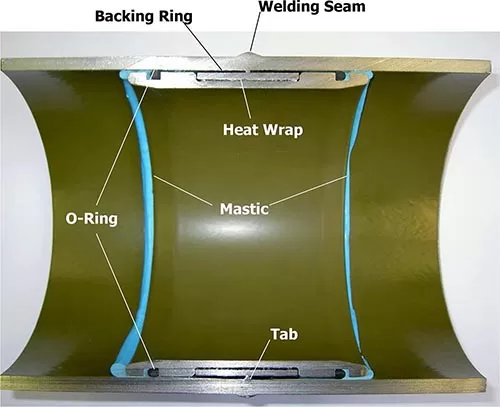 AdiSleeve Installation.
Insure that pipe ends are clean and damage free. Gauge inside diameter with field gauge or sleeve with no O-rings in place. No resistance should occur. Inspect Pipe sleeve for coating damage or other harmful defects making sure that orings and heat tape are in place. Heat tape should be dry and undamaged.
Applied Mastic before Sleeve installation.
AdiSleeve in place before final installation.
Cross Section before installed AdiSleeve.
X-ray inspection showing tab weled in root pass.
AdiSleeve Material Grades.
STANDARD : API | ASTM | DIN | EN | AS PER CLIENT DRAWING
MATERIAL GRADE :
API 5L PSL 1 & PSL 2 (Grade B, X46, X52, X56. X60, X65)
ASTM A53 Grade B / ASTM A106 Grade B
ASTM A333 Grade 6
ASTM A516 Grade 60, Grade 65, Grade 70
ASTM A671 CC60, CC65, CC70
ASTM A335 P5, P9, P11, P22, P91
ASTM A691 1-1/4CR, 2-1/4CR, 5CR, 9CR, 91
Manufacturers of Pipe Sleeve, Manufacturers of Pipe Insert Sleeve, Manufacturers of Carbon Steel Pipe Sleeve, Manufacturers of Steel Pipe Sleeve, Manufacturers of Metal Pipe Insert, manufacturers of Plate rolled pipe Sleeves, Manufacturers of API pipe insert sleeve, Manufacturers of AdiSleeve inserts, manufacturers of greath weld pipe sleeve, Manufacturers of pipe weld insert sleeve, Manufacturers of pipe protaction insert sleeve, Manufacturers of pipe sleeving.
AdiSleeve Supply to :
ASIA – India, Japan, Thailand, Singapore, Sri lanka, Bangladesh, South Korea, Indonesia, Philippines, Vietnam, Kazakhstan, Azerbaijan, Turkmenistan.
Middle East – Kuwait, Dubai, Saudi Arabia, Qatar, Oman, Bahrain, Jordan, Turkey, Iraq, Yemen, Syria, Azerbaijan, United Arab Emirates, Israel.
Western Europe – Germany, France, Netherlands, Belgium, Austria, Switzerland, Luxembourg, Monaco, Liechtenstein
Eastern Europe – Russia, Ukraine, Poland, Romania, Czechia, Hungary,Belarus, Bulgaria, Slovakia, Moldova
Northern Europe – United Kingdom, Sweden, Denmark, Finland, Norway, Ireland, Lithuania, Latvia, Estonia, Iceland, Isle of Man, Faeroe Islands
Southern Europe – Italy, Spain, Greece, Portugal, Serbia, Croatia, Bosnia and Herzegovina, Albania, North Macedonia, Slovenia, Montenegro, Malta, Andorra, Gibraltar, San Marino, Holy See
South America – Argentina, Chile, Brazil, Colombia, Paraguay
Western Africa – Nigeria, Ghana, Côte dIvoire, Niger,Burkina Faso, Mali, Senegal, Guinea, Benin, Togo, Sierra Leone, Liberia, Mauritania, Gambia, Guinea-Bissau, Cabo Verde, Saint Helena
Northern Africa – Egypt, Sudan, Algeria, Morocco, Tunisia, Libya, Western Sahara
Southern Africa – South Africa, Namibia, Botswana,Lesotho, Swaziland
Eastern Africa – Ethiopia, Tanzania, Kenya, Uganda,Mozambique, Madagascar, Malawi, Zambia, Zimbabwe, South Sudan, Rwanda, Burundi, Somalia, Eritrea, Mauritius, Djibouti, Réunion, Comoros, Mayotte, Seychelles