A valve is a device that regulates, directs or controls the flow of a fluid (gases, liquids, fluidized solids, or slurries) by opening, closing, or partially obstructing various passageways. Valves are technically fittings, but are usually discussed as a separate category. In an open valve, fluid flows in a direction from higher pressure to lower pressure. The word is derived from the Latin valva, the moving part of a door, in turn from volvere, to turn, roll.
Aditya Steel Engineering co. is leading suppliers and exporters of aprroved industrial valves types of KOC-Kuwait, KNPC-KUWAIT, ADNOC -ABU DHABI, ARAMCO-SAUDI ARABIA, PDO-OMAN, SHELL, SAIPEM LIKE Industrial Gate Valves, Globe Valves, Ball Valves, Butterfly Valves, Check Valves IN Mumbai, India, Dubai Middle east Etc.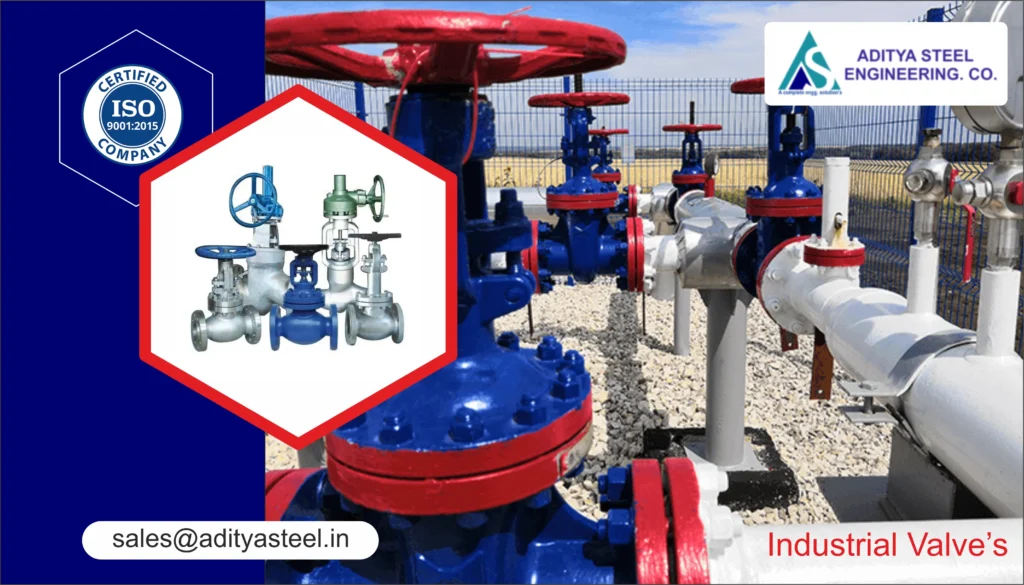 The simplest, and very ancient, valve is simply a freely hinged flap which drops to obstruct fluid (gas or liquid) flow in one direction, but is pushed open by flow in the opposite direction. This is called a check valve, as it prevents or "checks" the flow in one direction. Modern control valves may regulate pressure or flow downstream and operate on sophisticated automation systems.
Valves have many uses, including controlling water for irrigation, industrial uses for controlling processes, residential uses such as on / off and pressure control to dish and clothes washers and taps in the home. Even aerosols have a tiny valve built in. Valves are also used in the military and transport sectors.
1. INDUSTRIAL GLOBE VALVE
A globe valve, different from ball valve, is a type of valve used for regulating flow in a pipeline, consisting of a movable disk-type element and a stationary ring seat in a generally spherical body.
Globe valves are named for their spherical body shape with the two halves of the body being separated by an internal baffle. This has an opening that forms a seat onto which a movable plug can be screwed in to close (or shut) the valve. The plug is also called a disc or disk.
In globe valves, the plug is connected to a stem which is operated by screw action using a handwheel in manual valves. Typically, automated globe valves use smooth stems rather than threaded and are opened and closed by an actuator assembly.
SPECIFICATION

 DESIGN
 BS 1873
 TESTING
 API 598
 FLANGE END
 ANSI B 16.5
 BW END
 ANSI B 16.25
 FACE TO FACE
 ANSI B 16.10
 MOC
 WCB/ WC6/ WC9/ CF 8/ CF 8M/ CF 3/ CF 3M/ CN 7M
 SIZE
 15 MM TO 600 MM
 OPTIONS
 GEAR OPERATED
2. INDUSTRIAL BUTTERFLY VALVE
Operation is similar to that of a ball valve, which allows for quick shut off. Butterfly valves are generally favored because they are lower in cost to other valve designs as well as being lighter in weight, meaning less support is required. The disc is positioned in the center of the pipe; passing through the disc is a rod connected to an actuator on the outside of the valve. Rotating the actuator turns the disc either parallel or perpendicular to the flow. Unlike a ball valve, the disc is always present within the flow, so a pressure drop is always induced in the flow, regardless of valve position.
A butterfly valve is from a family of valves called quarter-turn valves. In operation, the valve is fully open or closed when the disc is rotated a quarter turn. The "butterfly" is a metal disc mounted on a rod. When the valve is closed, the disc is turned so that it completely blocks off the passageway. When the valve is fully open, the disc is rotated a quarter turn so that it allows an almost unrestricted passage of the fluid. The valve may also be opened incrementally to throttle flow.
SPECIFICATION

 DESIGN
 API 609/ BS 5155
 TESTING
 BS 6755
 END CONNECTION
 WAFER/LUG/DOUBLE FLANGE
 MOC
 CI/WCB/CF 8/CF 8M/CF 3/CF 3M/AL. BRONZE
 LINING
 NBR/EPDM/VITON/SILICON/NEOPRENE/PTFE
 SIZE
 40 MM TO 700 MM
 OPTIONS
 • GEAR OPERATED
 • PNEUMATICALLY OPERATED
 • ELECTRICALLY OPERATED
 • EXTENDED STEM
 
 
3. INDUSTRIAL BALL VALVE
A ball valve is a form of quarter-turn valve which uses a hollow, perforated and pivoting ball to control flow through it. It is open when the ball's hole is in line with the flow and closed when it is pivoted 90-degrees by the valve handle. The handle lies flat in alignment with the flow when open, and is perpendicular to it when closed, making for easy visual confirmation of the valve's status
Ball valves are durable, performing well after many cycles, and reliable, closing securely even after long periods of disuse. These qualities make them an excellent choice for shutoff and control applications, where they are often preferred to gates and globe valves, but they lack their fine control in throttling applications.
The ball valve's ease of operation, repair, and versatility lend it to extensive industrial use, supporting pressures up to 1000 bar and temperatures up to 752 °F (400 °C), depending on design and materials used. Sizes typically range from 0.2 to 48 inches (0.5 cm to 121 cm). Valve bodies are made of metal, plastic, or metal with a ceramic; floating balls are often chrome plated for durability. One disadvantage of a ball valve is that they trap water in the center cavity while in the closed position. In the event of a freeze, the sides can crack due to expansion of ice forming. Some means of insulation or heat tape in this situation will usually prevent damage.Another option for cold climates is the "freeze tolerant ball valve". This style of ball valve incorporates a freeze plug in the side so in the event of a freeze up, the freeze plug ruptures, (acts as a sacrificial disk), thus making for an easy repair. Now instead of replacing the whole valve, just screw in a new freeze plug.
SPECIFICATION
 DESIGN
 API 6D/ BS 5351
 TESTING
 API 598/ BS 5146/ BS 6755
 FIRE SAFE
 API 607/ API 6FA/ BS 6755-II
 FLANGE END
 ANSI B 16.5/ BS 10/ DIN
 SW END
 ANSI B 16.11
 BW END
 ANSI B 16.25
 SCREWED END
 ANSI B 1.20.1/ ANSI B 2.1
 FACE TO FACE
 ANSI B 16.10/ DIN
 MOC
 WCB/CF 8/CF 8M/CF 3/CF 3M/CN 7M
 SIZE
 15 MM TO 600 MM
 OPTIONS
 • GEAR OPERATED
 • PNEUMATICALLY OPERATED
 • ELECTRICALLY OPERATED
 • LOCKING DEVICE
 • EXTENDED STEM
 • TRUNION MOUNTED
 • MULTIPORT VALVES
 • JACKETED VALVES
4. INDUSTRIAL CHECK VALVE.
A check valve, clack valve, non-return valve or one-way valve is a valve that normally allows fluid (liquid or gas) to flow through it in only one direction.
Check valves are two-port valves, meaning they have two openings in the body, one for fluid to enter and the other for fluid to leave. There are various types of check valves used in a wide variety of applications. Check valves are often part of common household items. Although they are available in a wide range of sizes and costs, check valves generally are very small, simple, or inexpensive. Check valves work automatically and most are not controlled by a person or any external control; accordingly, most do not have any valve handle or stem. The bodies (external shells) of most check valves are made of plastic or metal.
An important concept in check valves is the cracking pressure which is the minimum upstream pressure at which the valve will operate. Typically the check valve is designed for and can therefore be specified for a specific cracking pressure.
SPECIFICATION
 DESIGN
 API 6D / BS 1868
 TESTING
 API 598 / BS 6755 PART I
 FLANGE END
 ANSI B 16.5
 BW END
 ANSI B 16.25
 FACE TO FACE
 ANSI B 16.10
 MOC
 WCB/ WC6/ WC9/ CF 8/ CF 8M/ CF 3/ CF 3M/ CN 7M
 SIZE
 15 MM TO 600 MM
5. INDUSTRIAL CONTROL VALVE.
An instrument needle valve uses a tapered pin to gradually open a space for fine control of flow. The flow can be controlled and regulated with the use of a spindle. A needle valve has a relatively small orifice with a long, tapered seat, and a needle-shaped plunger on the end of a screw, which exactly fits the seat.
As the screw is turned and the plunger retracted, flow between the seat and the plunger is possible; however, until the plunger is completely retracted, the fluid flow is significantly impeded. Since it takes many turns of the fine-threaded screw to retract the plunger, precise regulation of the flow rate is possible.
The virtue of the needle valve is from the vernier effect of the ratio between the needle's length and its diameter, or the difference in diameter between needle and seat. A long travel axially (the control input) makes for a very small and precise change radially
6. INDUSTRIAL STRAINER
Basket strainers protect equipment by removing dirt particles or solids from liquids and other piping systems.
We supply simplex basket strainer in iron, carbon steel and stainless steel, ANSI and DIN staindards.
SPECIFICATIONS FOR BASKET STRAINER:
1. Sizes: 2″ – 36″
2. Pressure rating: ANSI 150lbs, 300lbs, 600lbs, PN10, PN16, PN25, PN40
3. Suitable medium: Water, gas, oil, steam etc.
4. Body material: WCB, WPB, LCB, CF8, SS304, CF8M, SS316, CF3, SS304L, CF3M, SS316L, CAST/DUCTILE IRON
5. Screen: Stainless steel (304SS, 316SS)
6. Mesh size: 20mesh, 40mesh, 60mesh, 80mesh, 100mesh, 200mesh, 400mesh etc
7. End connection: BW, RF, RTJ.
WE SERVE TO : SAUDI ARABIA, CANADA, IRAN, IRAQ, UNITED ARAB EMIRATES, KUWAIT, VENEZUELA, MEXICO, NIGERIA, BRAZIL, ANGOLA, KAZAKHSTAN, NORWAY, QATAR, ALGERIA, EUROPEAN UNION, COLOMBIA, OMAN, AZERBAIJAN, INDONESIA, UNITED KINGDOM, MALAYSIA, ECUADOR, ARGENTINA, EGYPT, LIBYA, AUSTRALIA, VIETNAM, CONGO, REPUBLIC OF THE EQUATORIAL GUINEA, TURKMENISTAN, GABON, THAILAND, SOUTH SUDAN, SVALBARD, DENMARK, BRUNEI, YEMEN, GHANA CHAD, PAKISTAN, ROMANIA, TRINIDAD AND TOBAGO, CAMEROON
TIMOR-LESTE, PERU, UZBEKISTAN, SUDAN, TUNISIA, BOLIVIA, CUBA, BAHRAIN.