Manufacturer and Suppliers of pipe sleeve known as internal weld pipe sleeve, weld joint pipe sleeve, greath weld protaction weld sleeve, pipe insert sleeve, pipe internally insert sleeve, anti-corrosion sleeve in india
Engineers at Aditya Steel Engg. Co. have thoroughly researched the issue of preventing internal corrosion in pipelines with welded joints. They can assist you in exploring the various lining and joint solution options accessible.
One of the companies producing carbon steel pipe sleeves with the highest rate of growth is Aditya Steel Engg. Co. We provide these covers in standard and customised forms at a competitive price, depending on the needs of our customers. Aditya Steel & Engg. Co. produces these pipe insert sleeves in a variety of sizes, shapes, and dimensions in accordance with worldwide standards. This raw substance comes from a reliable exporter.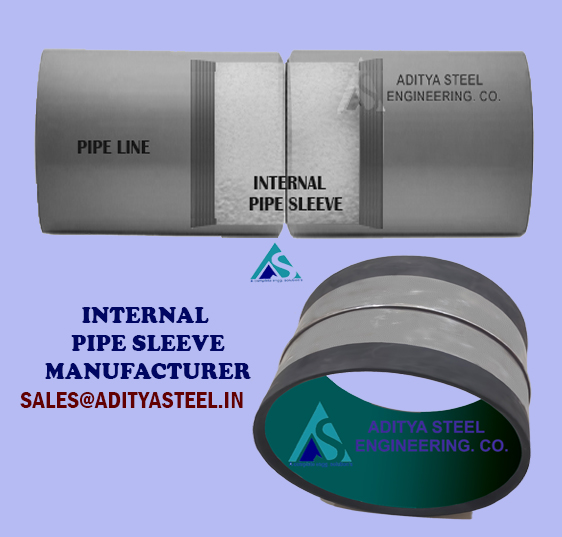 By forming a continuous internal coating transmission at the joint welding section, the Aditya steel internal insert sleeve is a pipe sleeve specifically created to protect the welded joint region of piping from corrosive process fluids. This product can be manufactured to be a wide variety of sizes, grades, materials, or piping system configurations, and it can be used in field jointing of both onshore and offshore pipeline installation. The cover works with pipe coatings made of liquid or powder materials.
The pipe insert sleeve's design goal is to provide a consistent internal coating for internally coated pipelines while taking into account the maintenance and cleaning tasks that must be done on the pipeline after installation. This will prolong the service life of the pipeline.
The pipeline internal greath weld area is satisfactorily protected by the pipe insert sleeve thanks to the application of the proper coating that is appropriate for working under the unique transporting medium conditions of each project, high temperature isolation treatment for pipe welding, and the use of high temperature and corrosive resisting sealing rings and mastic epoxy.
The pipe insert sleeve manufactured by ASEC usually has an outer diameter of 2 inches to 48 inches and fits internally coated pipelines. (60.3mm-1219mm). It is advised to apply internal field joint coating using ASEC internal field joint coating robot for pipes larger than 12 inches.

Advantages of Pipe Insert Sleeve for Internal Field Joint Coating.
• Easy installation
• Increasing pipeline service life
• Increasing flow efficiency
• Reducing internal corrosion
• Providing coherent pipeline internal protection
• Reducing pipe wall thickness requirements
• Diminishing or eliminating pipeline leaks
Aditya Steel Pipe Insert Sleeves Material Grade
API 5L LINE PIPES PSL 1 & PSL 2, SOUR SERVICE NACE MR0175, Grade x46, x52, x60, x65, x70, x80 | ASTM A53 | ASTM A106 | ASTM A333 | ASTM A36 | ASTM A516 CL 60, CL 65, CL 70 | ASTM A671 | ASTM A672 | ASTM A691 | ASTM A312 | ASTM A358 etc.
OUR MAIN MANUFACTURER AND EXPORT COUNTRIES.
ASIA – India,Thailand, Singapore, Sri lanka, Bangladesh, India, Indonesia, Viatnam, China, South Korea, Hong Kong, Japan.
Middle East – Kuwait, Dubai, Saudi Arabia, Qatar, Oman, Bahrain, Jordan, Iraq, Iran, Lebanon, United Arab Emirates, Algeria, Tunisia.
Europe – United Kingdom, Italy, Belgium, France, Croatia, Spain, Germany, Poland, Finland, Grees,
South America – Argentina, Chile, Brazil, Colombia, Paraguay, Colombia, Ecuador/Ikwayur/Ekuatur, Falkland Islands, Guyane, Guyana, Paraguay/Paraguái, Perú/Piruw/Piruw, South Georgia and the South Sandwich Islands, Suriname, Uruguay/Uruguai, Venezuela
Africa – South Africa, Eastern Africa, Northern Africa, Ethiopia, Egypt, DR Congo, Tanzania, South Africa, Kenya, Uganda, Algeria, Sudan, Morocco, Angola, Mozambique, Ghana